SPECIALIST PROFILES
Kelsey Bourgeois
Biologist, EnviroMak Inc.
B.Sc., P. Biol., QAES, Wetland Science Practitioner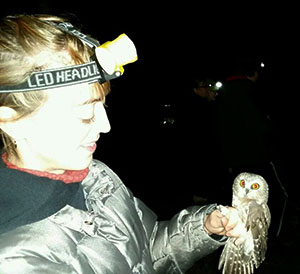 Kelsey Bourgeois joined the EnviroMak team in 2011 and has since become a lead ornithologist/avian specialist and wetland science practitioner participating in, producing and managing numerous owl and nesting bird surveys and management plans, biophysical and natural areas assessments, waterbody permanence assessments, riparian setback modelling, lake management, wetland classification and delineation assessments, and associated restoration/replacement/compensation plans. Bourgeois is intimately familiar with the current Alberta Wetland Classification System and Policy and stays abreast of the dynamic regulatory framework so as to advise clients with the upmost comprehension and current information. Kelsey's meticulous approach results in thorough assessments and quality credible results, and her vast field skills include in-depth experience in the areas of fish and wildlife, hydrology, soils and vegetation. Kelsey graduated from the University of Alberta with a Bachelor of Science Degree with major in Biological Science and Animal Biology with First Class Standing. Her Masters of Science Degree program is currently in progress via the Royal Roads University.