Ray Makowecki
M.Sc., P.Biol., QAES
Co-Founder
Ray Makowecki has been offering high quality environmental services to public and private sector clients from across Canada for over 40 years. During this period, Makowecki has garnered extensive experience in the fields of ecology, fish and wildlife biology, water quality and aquatic management, geomorphology, forestry, database management, policy development, and project management. His experience in numerous aspects of environmental science has resulted in the successful development and implementation of many effective management techniques for a wide range of proponents including but not limited to road builders, oil and gas producers, miners, sand and gravel industry, municipalities, developers, lake and cottage associations, farmers, government agencies, engineers, tree clearers, trappers, environmental interest and research groups and more.
Prior to founding EnviroMak Inc., Ray served as Head, Fisheries Habitat and Director, Northeast Region, for Alberta Fish and Wildlife. He was instrumental in the development of Alberta's fisheries habitat protection guidelines, the critical fish habitat maps and a natural resource protection referral system. He later became the Director of Policy and Program Coordination for Alberta Environmental Protection, where he was responsible for the evaluation and management of a number of programs including the Northern River Basins Study, the Alberta Forest Conservation Strategy, and the commercial recreation policy.
Makowecki believes in incorporating direct and personal experience when conducting field assessments, preparing reports and liaising with regulatory agencies. In doing so, he provides a high level of service to client.
Ray was recently awarded the National Recreational Fisheries Award of Canada (2015 recipient). 'Fisheries and Oceans Canada (DFO) developed the National Recreational Fisheries Award program to honour individuals and organizations for their contribution to the conservation, restoration and enhancement of Canada's recreational fisheries and their habitat. These individuals and organizations have played, and continue to play, a very important role in sustaining and developing the recreational fishing experience throughout Canada.'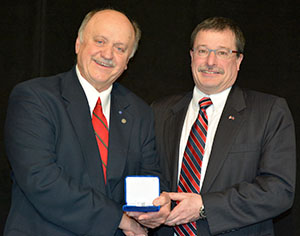 Ray Makowecki receiving 2015 National Recreational Fisheries Award of Canada from Dave Burden, Regional Director General, Central and Arctic Region, Fisheries and Oceans Canada.